Princess, Dutchess, Queen!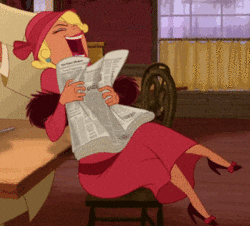 With more news coming soon, we are as excited as our GIF!
For our Junior and Little Miss contestants we always like to treat them in some way.
Our event is meant to be relaxed and fun for those under teens.
Since we started we have always given a tiara and certificate to say thank you and well done to every single junior and little miss contestant. This is important to us as those little ones really do work hard, as hard as our older contestants, and we want to make it the most positive experience we can!
With 2019 UK Nationals fast approaching, the junior and little miss contestants are being crowned with a slightly different method this year.
Instead of awarding all the children with tiaras and certificates we will be awarding them with their very own sashes to keep safe and add to their collection.
What does this mean?
This means we will be calling out all our contestants and awarding all but TWO the princess sashes. Who wouldn't want to become a princess.
With this there will be no responsibility to stay with us and represent us unless they really want too. They will become Little Miss & Junior Princesses 2019 and receive automatic acceptance into 2020 finals as a thank you for their hard work with a massive 40% off their entry fee.
What about the last two?
The last 2 without a sash will be crowned as normal.
We will be calling out the name of our 1st runner up and awarding this little miss & junior as DUTCHESS. Yes instead of being 1st runner up, you will become Crown & Glory Dutchess 2019 and receive automatic acceptance into 2020 finals as a thank you and congratulations on such an achievement, with a massive 50% off their entry fee.
Once our Dutchess has been sashed, our new Junior & Little Miss UK queen will get their moment of being crowned on stage, receiving their stunning official C&G UK sash and crown worth over £200, as well as leaving with an array of fabulous prizes including a face mask by Beauty Belle.
How do I enter my child?
This is really simple. Either fill out the form here or fill out the registration form here and email with your child's' photo to crownandgloryevents@yahoo.co.uk
Once you have been confirmed you can pay your entry place fee which is £72 for little miss and £120 for juniors or you can leave a place deposit for £50 juniors.
What prizes do the little miss and Juniors get this year?
We always try and get you a fab prize package.
The official Crown & Glory UK full round gold crown

A gorgeous quality satin sash to wear for appearances during the whole year

A super cute fluffy pop socket

A goodie bag - age appropriate

Face Mask from Beauty Belle

Winners Crowning Photos by Ant Bradshaw - multi award winning photographer

Official winners photoshoot

2020 End of year winners photoshoot

2020 UK Finals opening dress, Made to measure by the one and only Rachel Excell
What do they receive as finalists?
Upon entering all contestants will receive:
Sash to enable you to represent your chosen area. This could be your town, village, county or even country if they aren't already taken.

A pageant hand book from Rhinestone and Sparkles for all your pageant needs.

Support on the run up from director and current UK queens when ever you need it.

You will be added into the UK finalist group to use as much as you need.

Information pack about the pageant.

Lunch on the day - we require dietary requirements for you and your child as one parent / guardian who must attend all day with under 18 is also provided with food.

One Free ticket for you as the parent/guardian
That concludes our todays update - any questions please do not hesitate to ask!